'And now for something completely different'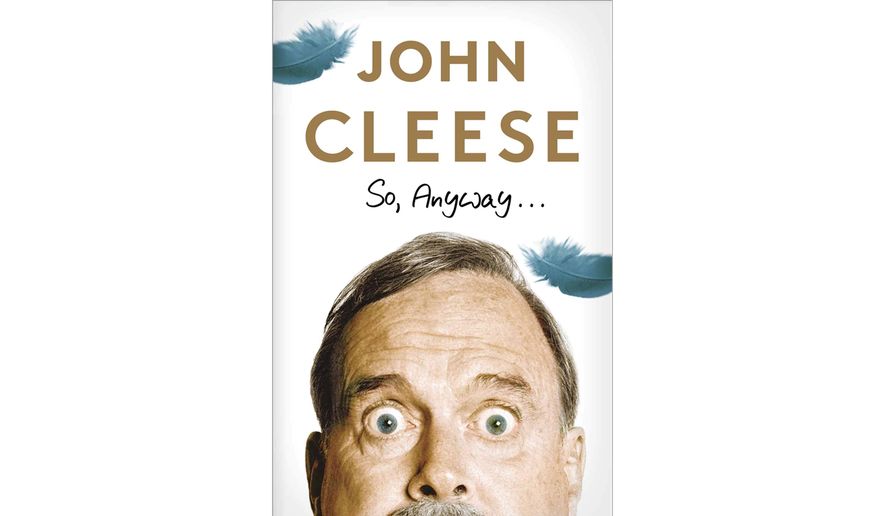 SO, ANYWAY
By John Cleese
Crown Archetype, $28, 400 pages
For most diehard Monty Python fans, the excitement generated at the idea of John Cleese writing an autobiography must have been enormous. After the announcement of the book's release, the speculation must have included thoughts such as:
• Finally, we may get a behind-the-scenes look at the inner workings of the Monty Python comedy group from arguably one of the greatest comedic minds of the last 50 years.
• Maybe readers will find out what inspired the character Basil Fawlty, the pessimistic hotel owner that Mr. Cleese portrayed in the iconic comedy series, "Fawlty Towers."
• Will Mr. Cleese share some of his favorite moments from filming the brilliantly funny movie, "A Fish Called Wanda"?
So, anyway .
If you are looking for blow-by-blow, full tell-all account of Mr. Cleese's life and career, you will not find it in "So, Anyway ."
Yes, there are a few tidbits in Mr. Mr. Cleese's memoir about his career after co-founding Python, but most of the book focuses on his life before the wildly successful BBC comedy show "Monty Python's Flying Circus" first aired back in 1969.
This is a very entertaining look at Mr. Cleese's early life. He opens the book by recounting his first public appearance: "On the stairs up to the school nurse's room at St. Peter's Preparatory School, Weston-super-Mare, Somerset England, on September 13, 1948. I was eight and five-sixths. My audience was a pack of nine-year-olds, who were jeering at me and baying 'Chee-eese! Chee-eese!' I kept climbing the steps, despite feeling the humiliation and fear."
It must not have been easy for Mr. Cleese as a child. He was tall at a very early age — five-foot three at age eight and over six feet tall at 12. Being that height so early in life not only makes you stand out in a crowd; Mr. Cleese also describes the feeling of "outgrowing his strength."
He was weak and awkward, very uncoordinated. Early on, his gym teacher once described him as "six foot of chewed string."
As a child, Mr. Cleese was a self-described wuss. Through thoughtful self-examination, he deduces why he was wimpish, and gives an example of how he was coddled while growing up:
"The more pertinent question, though, is: Why was I a wuss? And the obvious answer is that it's because I was the only child of older, overprotective parents. I have a memory (No. 3) to support this. I'm now three and am in the Red Cow Inn, the hub and beating heart of Brent Knoll. Somehow I bang my hand, and just before I burst into tears, I hold it up to my father and howl, 'Daddy, look! I've hurt my precious thumb!' This to my astonishment, gets a big laugh. Is my thumb not precious, I wonder? Dad certainly thinks it is. When the occasion demands, he always says, 'Oh, you've hurt your precious ____ [fill in applicable body part].' "
While he is very fond of his dad, he credits him for keeping his complicated marriage together. The same can't be said for mom, who he describes during a fight with his father as "this unknowable creature who is widely rumoured to be my mother."
A complicated woman who, by his account, was a good mother, she was also "self-obsessed and anxious, and that could make life with her very uncomfortable indeed."
From there, Mr. Cleese goes on to tell tales of his days playing cricket, some private school pranks and the circumstances that lead him to walk away from a career in law to become a comedy writer for "The Frost Report" and launching his successful career as a comedic writer and actor.
At the end of the book, he shares some of his thoughts on the wildly successful "Monty Python Live" (mostly) reunion shows of 2014, but it will probably leave most Monty Python fans wanting a second book that will go into greater detail of his life during and after Python.
Much of this memoir includes stories that he could have shared with a therapist or told to friends at a neighborhood pub. Mr. Cleese weaves them seamlessly together while along the way, adding observational humor often with comedic timing you would expect from one of the best comedy writers of his generation.
Without including many stories from his Monty Python days, this book may leave some diehard fans disappointed. But for most fans of John Cleese, I believe they will be happy with "So … Anyway." It is an entertaining, witty, sometimes hilarious look at Mr. Cleese's early life.